Full History
Well if you made it here, you must be bored! Haha. Or very curious... Anyway, this is the full cataloged history of EverImagine.net and its connected network of websites (past and present).
The Proboards Kickstart
2004-Present
I got involved in online world back in 2005, when my friends coerced me into writing (roleplaying-type writing style) at RealRPs. Feb 6, 2007, RealRPs closed, and I reopened it under the new name, LeLunares. After only a short time with LeLunares, I felt it needed something different. Aug 19, 2009, I changed LeLunares once again to its present state: Asaeria.
Beginning with Freewebs.com
2007-2009
Meanwhile... In 2007, I got involved in Webs.com, which then had been known as Freewebs.com. I was still very new to the whole 'website' thing. I started out with the website "Moonwriter", as I had been big into writing poetry and stories and planned on posting them on the site. As things grew, my writings moved to Writers Flight, with Moonwriter becoming aptly named, "Odds & Ends" (a place to dump my art, among other tidbits of miscellaneous nonsense). This did not last too long. With every major website-overhaul, the name changed. In the end I had three websites: Inspired Sight (for my art), Writers Flight (for my writing), and LeLunares (for rpgs).
Silver Reverie
2009
Some point during early 2009, I left Odds & Ends behind to create Silver Reverie on Webs.com. I once again brought everything under one roof: art, writings, and ramblings all combined. I got hooked on the idea of using HTML. This evolved from me downloading premade designs from other websites to taking templates to modify them for my own purposes. Slowly I got the basics of site editing down, until I finally got comfortable to create my own HTML based layout. Shortly after creating Silver Reverie, I made the move from Webs.com to a subdomain (tradedheart.com, which has long since passed into the void of dead domains).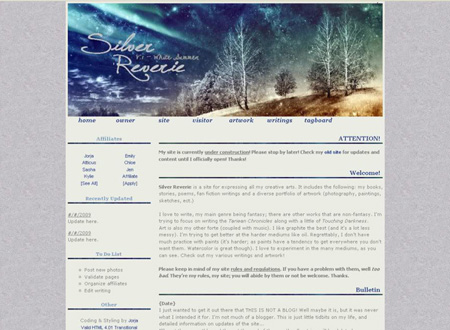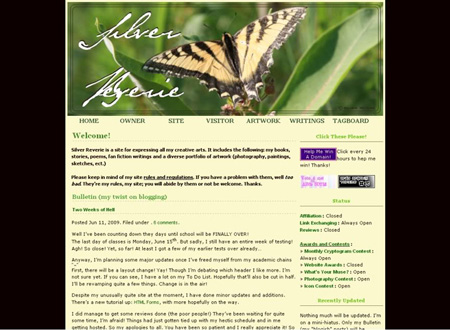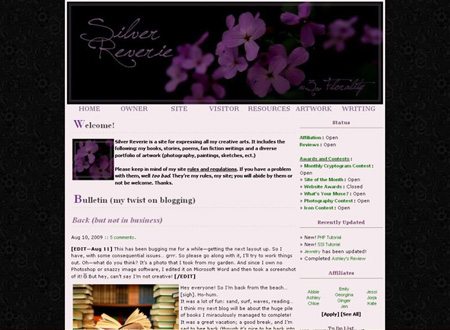 It was this phase that I committed myself to learning more about websites and how to make them. I look back and say this was when my website growth really got started and continued to advance. When measured in years, it seems each transition happened quickly, and I guess it did. However, each step brought me closer to where I am now, maturing, and seeming to make quantum leaps with each subsequent step.
EverImagine.net
It is funny how website communities form. Similar websites pop up all over, offering graphics, various resources of usually subpar caliber, all blogging about things that most people do not care to hear about. But, hey, I was one of them. I might never have come this far if I had not been apart of that community and events happened as they did. We grew off each other and helped each other to develop our own unique online presences.
Domain contests, something that was and is quite popular, allowed people (like myself) to gain access to the "privilege" that only money can buy. I won. And as my reward I asked for the TLD: everimagine.net
At the time, although domains were cheap, many people (myself included) did not have a credit card or bank account that could be used for an online transaction, so domains were a rarity.
The Evolution
Oct 19, 2009 - August 30, 2011
It was your "typical" website. What does a young person put on a website anyway? It's either a blog, or some sort of portfolio. I used this website to store my artwork, writing, and ramblings. There was a large online community that began to surround it. At one point, Ever Imagine had over 50 affiliates and link exchanges. It expanded into a graphic design and resource website, offering tutorials, freebies, website reviews, and even hosting.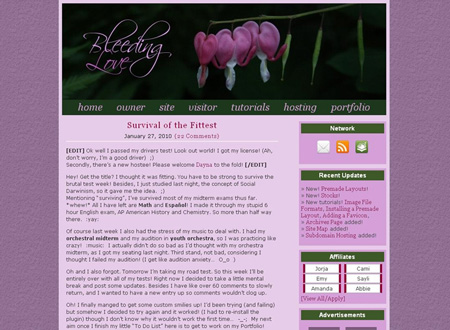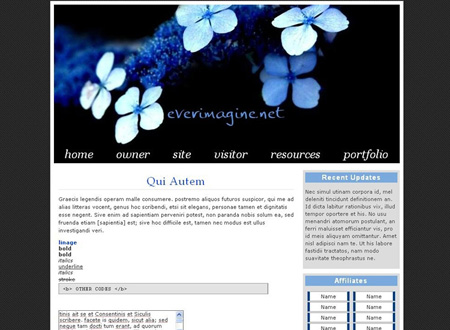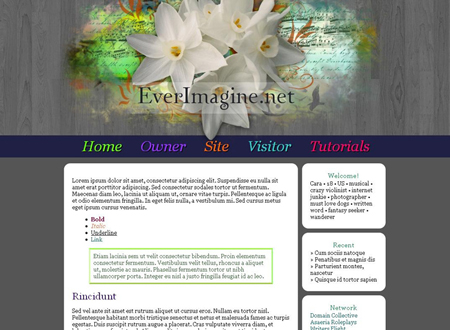 The Dead and Gone
Mini-websites, attempts, and past loves
At various points, I tried out other mini-websites, breaking out a website-review-only website, and even my own just-hosting website... Each I remember, and here personally commemorate each effort and development:
Carousel Hosting, carouselhost.com — offered sub-domain, domain, and even reseller hosting
Aeterna, aeterna.co.cc — This was my domain collective, where I could visually organize my myriad of websites.
Dreamspeak, dreamspeak.co.cc — I love quotes and sayings. I tried to make a website that would publish a different quote (from a book or movie even) or from a famous person, and then speak on it. It got too much to handle though, so I shut it down.
The Bookshelf, bookshelf.co.cc — held various book recommendations and reviews
Soul Symphony, soulsymphony.co.cc — was a short-lived blog about my love for music and playing the violin
ProEarth, proearth.co.cc/proearth.org — was an ongoing attempt at creating an environmental activist website, which finally fell through in 2011.
PORTFOLIOS:

Chasing Birds, chasingbirds.net — This was my first portfolio-only website.
Color Flight, colorflight.net — Chasing Birds moved to Colorflight.

WEB DESIGN:
The Now
December 21, 2011 - Present
I finally made the decision to condense. By the end of high school, I had numerous websites all over the place, dilapidated and left to waste. They were in serious need of updating, where my schedule became busier and busier with my interest waning. So over the summer into my first year of college, I deleted almost every website (except EverImagine.net) and purchased CaraMooney.com. Not long after moving what was left over from the purge to CaraMooney.com, I realized I still needed multiple sites to spread out and organize. I purchased CaraMooneyPhoto.com and CaraMooneyDesigns.com for my photography and website design business, respectfully.
As I concentrated on my "Cara Mooney" websites, I let EverImagine.net fall to the wayside. In early 2013, I returned my focus to it once again, finally deciding to make it into my personal portfolio. I created an Owl Vector layout in Photoshop, using scrolling navigation with a one page website. Unfortunately there were coding issues, and I once again became too busy to deal with them. April 20, 2013, I was browsing some websites when I took up the urge to trash and recreate from scratch a new design. I replaced the immature vectors for edgy grey-scaled photographs, simplifying the layout so that the main focus could say on my artwork.